Due to the success of the Remembrance Day projections, it's been decided that the light show will continue until this Sunday! 😍
This means our new projection piece will now premiere on Monday evening!
So, if you're in Blackburn town centre for your daily exercise after 4.45pm, or visiting any of the essential shops in the town centre, make sure to go and take a look!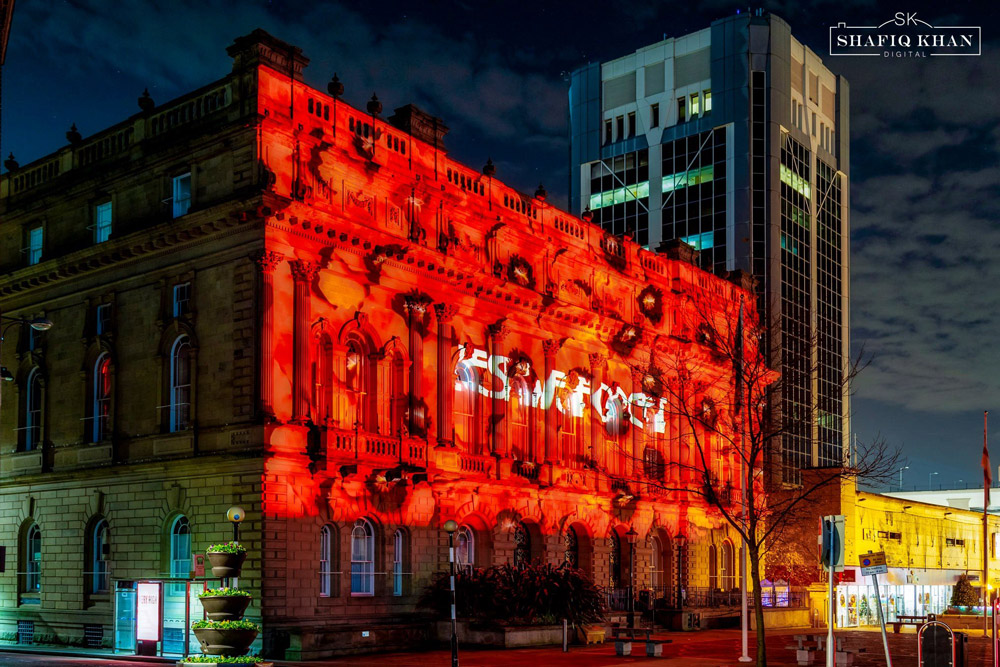 _________________________________________________________________
Want to be part of a huge light up projection piece by the awesome DoubleTake projections on Blackburn Town Hall this November? Fancy sharing your skills in a light up stylie, clad in fairy lights and LEDs and getting a slice of fame in the bargain? Get involved in Blackburn Festival of Light's Virtual Parade! 
Sounds good! What do I have to do?
We need 1 minute videos of you and your family taking part in our parade activities in light up fashion! 
If you want to take part, then here's everything you need to know and what you need to do. 
Learn a new skill or polish up one you already have! Check out our series of videos on our

Youtube Channel

and learn how to make your own light up poi and use them, learn a parade dance routine, make a lantern or a shadow puppet show, pick up some drumming techniques or create a stunning light up costume – there's loads on there to help you get in the swing of things this year and something for everyone to do!
Pick up a kit – make a costume or a lantern which you can use as part of your video. Kits MUST be pre-booked –

order yours on our website.

Pre-ordered kits can be collected from Blackburn Museum, Blackburn Visitors centre and The Bureau Centre for the Arts. Basic lantern and costume kits are free, though we are inviting people to 'pay one forwards' if you can afford to so we can send out more kits to people who can't afford it. Lighting and decoration add on kits are also available for the lanterns. If you are part of a school or a group that is still allowed to meet and want a larger number of kits please let us know by email

kits@blackburnfestivaloflight.co.uk

Our 'How to make a lantern' guide is

here
Get Inspired – Follow our

TikTok

for short films made by artists and creatives to give you some ideas or use our hashtag and sound: #BFOL2020virtualparade and make your own videos to join in. Don't forget to upload copies to our website (see step 5) if you want to be in with a chance of them being projected in the final piece. 
Please note, Tiktok videos need to be in portrait and less than 1 minute.
Get creative – make yourself a costume, shadow puppet or a lantern and film yourself and your family or your creations in an illuminated way! Do a dance, whirl some poi, show us your lanterns, get dressed up in your light up costumes and give us a twirl, play your drums or do a shadow puppet show. Whatever you fancy doing, we want to see your light up videos. Please keep to 1 minute max, landscape and portrait are both acceptable, as is mobile phone footage. Try and make your videos as light filled as possible – be creative – use fairy lights, desk lamps, torches, tablets or devices with a coloured screen turned up bright, and our kits, but try to avoid using your main living room/bedroom/kitchen lights. We want to be able to see you and your fancy light up clothing, not what's behind you – more tips

here. 
Send us your films. This is really easy to do through our

website.

Just fill in the form and upload your film. Once you submit they'll come straight through to us. Don't forget to tick the permissions box or we can't use your footage. Limited filming slots with a professional filmmaker are also available at The Bureau Centre for the Arts for family bubbles – please contact

scott@blackburnfestivaloflight.co.uk

.

Films need to be with us as soon as possible, but by 2nd November at the latest.
Sit back and wait! We can't promise all films we are sent will be included in the final selection for the video projection piece, but we will also be releasing them in our virtual event on our

Facebook page.

The projections run from 12

th

– 26

th

November 2020 and will be truly spectacular. 
So what are you waiting for? Community is what makes our events special and this year is no different, please do get involved and invite anyone you know to get involved too. 
#BFOL2020virtualparade 
Any links you need should be here, but please do get in touch if you need to know anything else!