Exciting News!
We are really excited about our parade tomorrow!
We have been soooo busy there has hardly been a chance to update our website, but here is the programme for tomorrows event.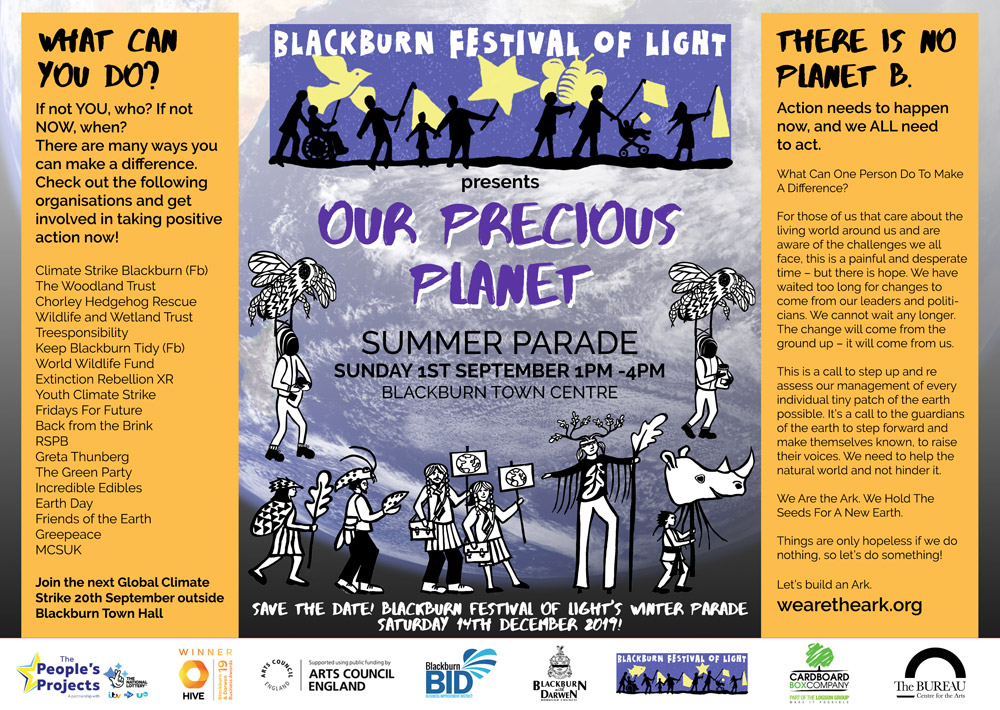 Costumes are to be collected from The Bureau on Penny Street  from 12-1.30pm – there are some spares, so if you didn't make one and you would like one, please contact us.
Line up is on Ainsworth St at 1.30pm
Parade departs at 2pm and arrives at Cathedral Square at 3pm
Walkabout performances, bar, and our beautiful festival flags will be on display at Cathedral Square from 1pm.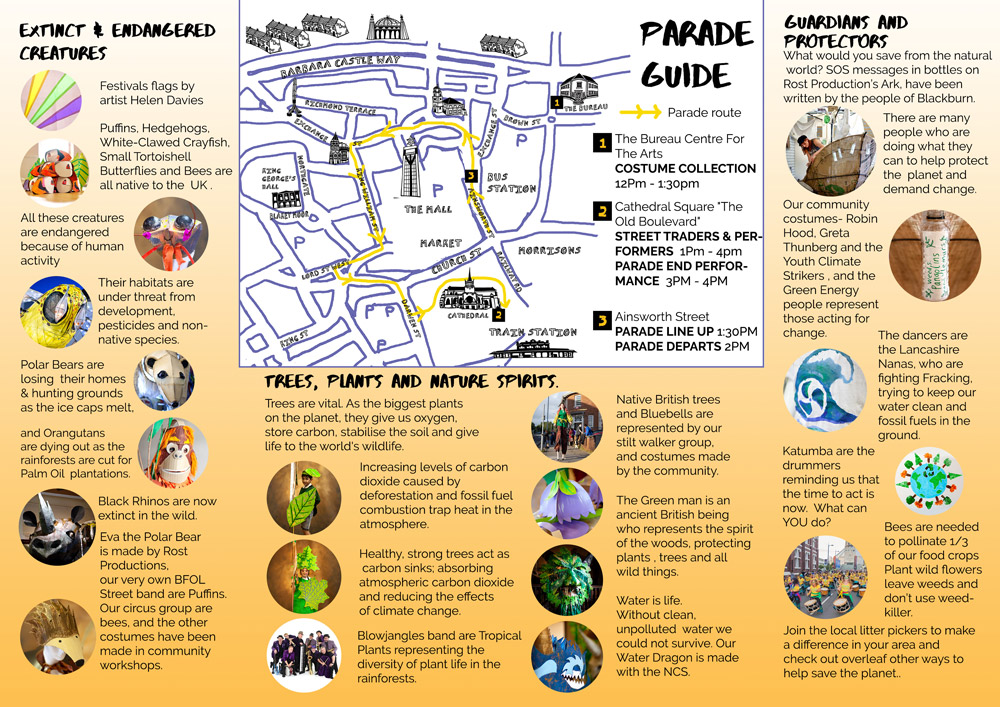 So much has happened this year we have hardly had time to turn around.
In April we suffered the loss of our home at The Bureau Centre for the Arts, after the building suffered a terrible fire.
However we then went on to win £50,000 in the People's Project which will fund a whole programme of workshops for a new summer parade event – Our Precious Planet- as well as workshops for our annual Lantern Parade at the Festival of Light.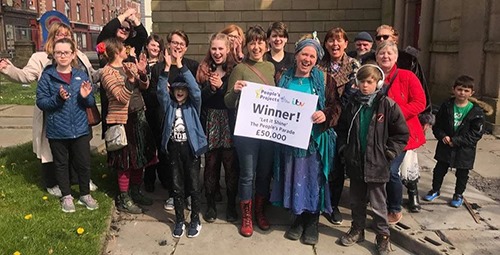 We also won the Buzz Award at the local Hive Business awards for bringing a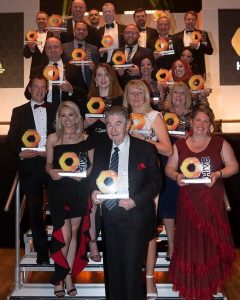 buzz to the town with our events!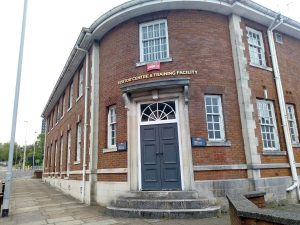 And we moved into our new home,  The Bureau Centre for the Arts is now based in the Old Thwaites Visitor's Centre on Penny Street, and we live there too.
Look out for lots of exciting workshops, activities and events over the coming months!
WE NEED YOUR VOTE TO WIN £50,000 OF NATIONAL LOTTERY FUNDING
https://www.thepeoplesprojects.org.uk/projects/view/let-it-shine-the-peoples-parade
Here at Blackburn Festival of Light we are really excited as we have been given the opportunity to secure £50,000 of National Lottery funding as part of this year's People's Projects. We are one of five groups in ITV Granada region in the running for a share of a life changing pot of £3 million up for grabs across the UK.
As you know we are a grassroots organisation run by a group of passionate artists, who are  really committed to making positive change in the town through our workshops and the Festival of Light itself. We employ local artists and performers, and use our activity to promote community interaction and integration; to up-skill volunteers and participants, build confidence and raise aspirations.  Our work helps change the way Blackburn is seen from the outside, as well as helping the people who live here feel a sense of pride of place, belonging and community. Blackburn is changing for the better- helped by many hands working together in many ways- and we really want to do their bit.
___________________________________________________________________
Let it Shine- The People's Parade
Imagine a year long project  which will encompass a free to access summer workshop programme and a new celebratory summer parade, whilst continuing to build on the success of the winter event. Think colour, costume, drumming and dance- think carnival, giant puppets, bright flags and happy faces! Oh and hopefully sunshine!
The funding would enable us to extend our community outreach programme to run year round. We would be able to keep our fantastic community Samba band growing and developing for performance in the parades. We will also have more dance movement sessions giving the parades more of a carnival feel, providing a longer bonding experience as a community beforehand. It would allow us to offer free to access workshops for anyone from the local community,  making lanterns in the winter, and big carnival structures/puppets, circus skills and costumes in summer.
This campaign is also an exciting opportunity to raise awareness and support for our work and, with your help, to secure further much-needed funding, but we need you to get behind us! If successful, this will help us to make an even bigger difference to our local community. Projects and events like this help to create positive feelings and energy in the town, and a sense of pride of place, belonging and community, and we think the people of Blackburn deserve to have exciting opportunities like this and are really hoping we will win.
___________________________________________________________________
How to Vote
On Thursday 4th April, Blackburn Festival of Light will be on the TV to showcase our project, LET IT SHINE – The People's Parade, this will be on Granada at 6pm. To be in with a chance of claiming the top prize, we are asking people to support our bid by visiting the People's Projects website to vote. Voting opens at 9am on Monday 1st  April at https://www.thepeoplesprojects.org.uk/projects/view/let-it-shine-the-peoples-parade
Voting closes at noon on Monday 15 April 2019. People can vote once per region and will need a telephone number or email address to vote.
To support the LET IT SHINE -The People's Parade project and for Ts & Cs please visit https://www.thepeoplesprojects.org.uk/projects/view/let-it-shine-the-peoples-parade
___________________________________________________________________
6 Ways you can help us!
1. Vote for us!! Go to www.thepeoplesprojects.org.uk/projects/view/let-it-shine-the-peoples-parade
Or go to www.thepeoplesprojects.org.uk/ select the Granada region and vote for "Let it Shine-the people's  parade"
2. Follow us – on all our social media channels and like, share and tag people in our posts
Twitter:twitter.com/bbfestoflight
Facebook: www.facebook.com/BlackburnFestivalofLight/
Facebook Community group: www.facebook.com/groups/365188990912031/
Instagram: www.instagram.com/blackburnfestivaloflight/
You tube: www.youtube.com/channel/UC6zdsLbfYDLhEVp1sv5-0Xg
3. Take the 10 friend challenge! – get 10 of your friends to vote for us with our 'nominate 10 people facebook challenge'  Take a selfie with a sign saying 'I voted for Let it Shine- the People's Parade' and the weblink www.thepeoplesprojects.org.uk/projects/view/let-it-shine-the-peoples-parade   and nominate 10 people to do the same by tagging them in the post.
4.  Spread the word-  Could you take our posters and flyer out into your local area- perhaps your corner shop will display one- your church or mosque, local school or community centre; your doctors, the chip shop or nearest garage. You could put flyers through doors of people you think might vote? Maybe you have an even better idea on where and how we can tell people? We need your help to make this possible though, so please get in touch if you can take posters or flyers out and about.
5.  Change your email footer and add the weblink below to direct people to our voting page
www.thepeoplesprojects.org.uk/projects/view/let-it-shine-the-peoples-parade
6. Join us- We are meeting in Blackburn Town centre on Saturdays 6th and 13th April to dance, drum, have fun, give out flyers and get people to vote. It will be great fun and volunteers are welcome to come and help us spread the word.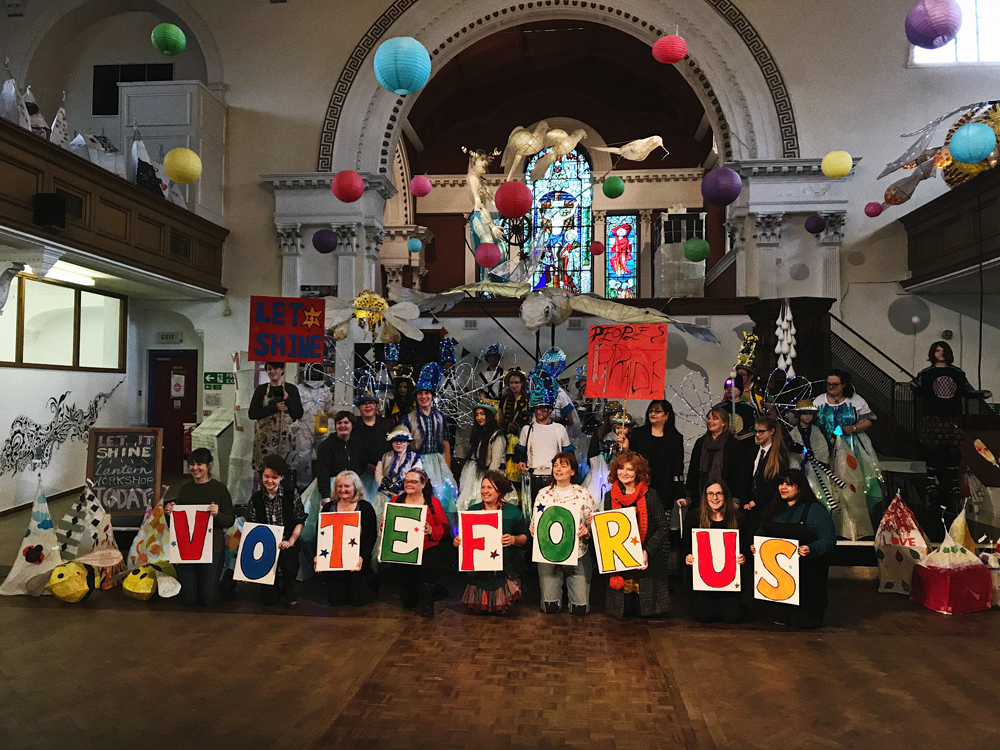 ​
Want to know more?
Watch:
Excitingly , in early March we were lucky enough to have a film crew from ITV come to visit us at our base in The Bureau Centre for the Arts and make a short campaign film.
This film is on the People's Project website, but is also going to be screened on ITV at 6pm on Thursday 4th April!  Tell all your friends to tune in!
Listen:
Thursday 4th April is a busy day for us as we are also taking part in a live broadcast from The Bureau Centre for the Arts. Tune in to BBC Radio Lancashire between 8pm and 10pm and you will be able to find out more about what's going on with us, as well as at The Bureau.
Online
Check out our website and facebook page for lots more information about us and what we do. You can also see videos of past year's events on our youtube channel.
Get in touch
We are always happy to hear from you- drop us an email or pop in on a Wednesday if you have any ideas of ways to get involved or to help out.
kerris@blackburnfestivaloflight.co.uk
leonie@blackburnfestivaloflight.co.uk
Keep a look out for our newsletter and posts over the next couple of weeks as we will update you on events and activities as well as the outcome of the vote when we know it!